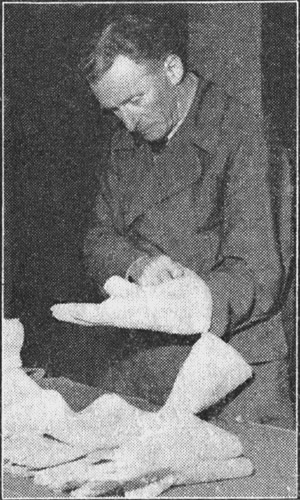 "Victor" examines some finished gloves


Nelson was better known as Vic. His nephew, Tony Gammage, knew him very well, especially during the war, when they both lived in Tonbridge. Vic was a good cricketer and his nephew was a frequent spectator at his matches.

Victor spent his working life in Tonbridge, Kent, where he ran the family Tannery business with his father, Jabez, and uncle Percy. The business was started in 1879 by his grandfather Thomas Coates, and was still in existence in the late 1950's. His cousin, Ross Vicars, believes the closure of the business was enforced by their reluctance to move away from the manufacture of their traditional wares - slippers, mittens, gloves, leggings, waistcoats, jerkins etc. - when they should really have been moving towards fine leather goods.

Click Here to see News Article about the business.

Victor also served with the Special Constabulary from about 1939 to at least 1966, receiving the Defence Medal for service in WW2, Coronation Medal 1953 and Special Constabulary Long Service medal with 3 bars for Long service in 1947, 1956 and 1966. The Specials medal is named on the rim to Sergt. Nelson V Coates. He was an Inspector in the Kent Special Constabulary when he received the 1953 Coronation medal, so would have been serving in his home county.

The Special Constabulary Faithful service medal was awarded after 9 years service and a dated bar was awarded for each subsequent 10 yrs of service. However, war service counted treble, thus we can see that he would have joined the Special Constabulary about the beginning of WW2, gaining the medal in 1943 and the first bar in 1947. Since he subsequently served until at least 1966, he may have retired with a still higher rank.

The medals were discovered in a Welsh antique shop, in 2006, and sold to Chris Keller, a collector in Brazil, who has supplied the information and photos below.