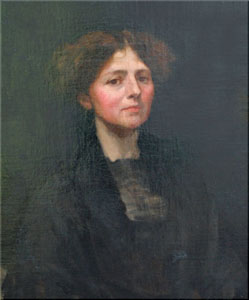 Self portrait - Click to enlarge


Susan Beatrice Lock ("Beatrice") was born at Hampstead, Middlesex on 20th July 1880, sometime after her parents arrived there from Dorchester (date uncertain). In Dorchester her father Benjamin Fossett Lock was practising as a lawyer and later as a judge on the Western Circuit and the Dorset Sessions. He was from a line of lawyers with a practice in Dorchester. Susan's mother, Jane Elizabeth, was from the Hammond family of Sopley where her father was the local vicar. Her maternal grandparents were from the Dickinson and Dyne (and Bradley-Dyne) families of Gore Court, Kent (Burke's Peerage).

Familiarly known as Beatrice, she grew up in London, living at Queen Square near Lincoln's Inn where her father occupied himself, and attended the Baker Street Church of England High School for Girls. Here she developed her love of art and sculpture. At the age of 21 she entered the Royal Academy Schools, School of Painting and was awarded the Silver Medal in 1906 for her "Painting of a Figure from the Life". This was an oil-on-canvas portrait of either her mother or father, the first two of five paintings to be accepted at the RA for exhibition up until 1912. She was to die tragically young in 1913 at the age of 32, as a result of septicaemia after the birth of her second child, Paul, on her farm in Louis Trichardt, South Africa. It is sobering to realise that a simple dose of penicillin, not to be available until the 1930's, would have overcome that.

Beatrice painted large oil portraits of most of her immediate family, including the Self-portrait shown here. Her portrait of her father's Eton and Cambridge friend, Professor Frederick William Maitland (considered the father of the history of law in Britain) was acquired by the National Portrait Gallery in 1923 following the death of her father in 1922. In recent years it has been hanging at the British Academy, London. Her portrait of her father Benjamin Fosset Lock as a judge, exhibited at the Royal Academy, is at the Dorchester County Museum.

Beatrice and her family took regular summer holidays at Ringstead Bay east of Weymouth, renting the Southdown farm homestead. This farm is now owned by the National Trust and is still a working farm. Other regular summer holidaymakers who shared the big farmhouse (upstairs-downstairs) were the Fripp family of Clifton, Bristol, which is how Susan met Leopold Henry Fripp, six years her senior. The farmhouse and its dry-stone flint garden walls do not look significantly different today when compared to a photo taken by Beatrice, probably before 1900.

Leo had served in the Boer War in 1901 as a volunteer in the Cape Mounted Rifles (Cricketer's Corps) and this opened up new country to him in the northern Transvaal, now Limpopo Province. Sometime after that he trained and practised as a land surveyor before returning to England, presumably to see the girl with whom he was smitten, and probably to arrange some financial affairs with his mother. He returned to the Cape in early 1907 to attend his brother's wedding in Cape Town in February, and then his own to Beatrice in September. They married at Kalk Bay near Cape Town, in September 1907. The wedding photographs were probably taken by Leo's older cousin, Henry Edward Fripp, who started the Fripps photography business in Cape Town and Beaufort West after migrating to the Cape Colony in 1870. Henry's son George Fripp was a witness to the ceremony. Beatrice and her father, Benjamin, sailed to Cape Town on board the Gaika, for the wedding. He embarked in London and she embarked two days later in Southampton on 10 August.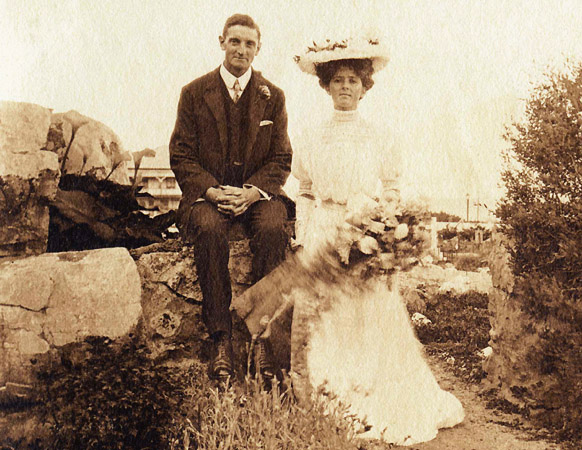 Leopold and Susan on their Wedding Day, at Kalk Bay, nr Cape Town, 4 Sep 1907
Leo and Beatrice settled temporarily in Pietersburg (now Polokwane) where Leo carried on his land survey business. Also during that period they camped at Leydsdorp, east of Pietersburg, where his army service had taken him and to where an 1890's gold rush, now abated, had attracted his engineer brother (Francis Edward Bowles Fripp), who was to be a private gold miner for much of his life. There Beatrice painted numerous landscape oils, a notable one being of "Los Kop (Lone Hill)", about 40 km north of Pietersburg. This was exhibited at the Autumn Exhibition of the Walker Gallery Liverpool in 1910. It would seem likely that Beatrice took it there personally as there is a record of her returning to South Africa aboard the "Miltiades" on 10th July 1910, having delivered her daughter Margaret Honor (who would be 17 months old) to Jane and Benjamin Lock for fostering, in London. Honor is recorded in the 1911 Census (2nd April) as being in London at the age of 26 months with her grandparents in London. Her first child, Margaret Honor, had been born in Pietersburg in 1909.
Beatrice followed her husband on many of his survey travels, including three or four seasons in what is now the Kruger National Park which Leo was surveying in the period from 1908 to 1911, and including the shared international border on the eastern (Mozambique) side of the Park. These were wild, difficult and dangerous places and their lives, and those of the donkey and horse-drawn carts that they used for transport, were threatened on many occasions, particularly by lionesses on the hunt.
They moved from Pietersburg to a farm that Leo had bought near Louis Trichardt in about 1911, where Leo continued his survey business and produced farm goods for the local village and raised cattle.
A list of her oils exhibited at the R.A. is below.