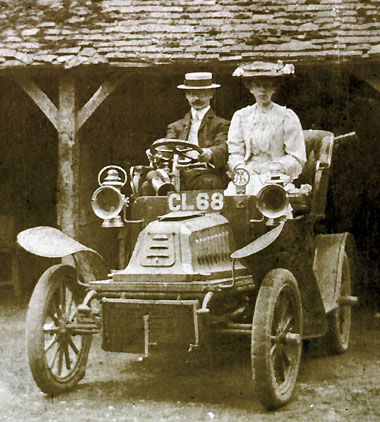 Percy and Floss Coates


When my father was growing up, horses dominated the highways and byways. There were also bicycles and hand-drawn carts, which delivered bread and milk up and down the rough hewn roads and narrow lanes in all kinds of weather. Then my father arrived home one day, full of exuberance and cried out that he had just seen a car in the middle of Tonbridge High Street, the provincial town where we lived. Previously, we had only seen a car on the films in our local cinema.

Only about a year went by before my father's ambition to own a car was realised. There was no prouder man than he, when he drove his new car from the firm to our house. Prior to this, he had only ridden a bicycle, but it had given him enough road sense, or so he claimed, to be able to drive a car without even receiving a lesson. But father's claim to be a competent driver was a bogus one.

We were out for a drive one day when the car hood was drawn back, in those days there were adjustable hoods. Suddenly a huge lorry bulldozed its way level with our car, and a sooty faced driver towered over us. He shook his fist at my father and swore in a language I had never heard before. "Why don't you go and get some lessons?" was the gist of what he wanted to say.

There was another time, I was in a panic, a large horse pushed its head on to my lap. I let out a blood curdling yell, which angered my father who thought I was making a fuss over nothing. But by then the driver of a large dray cart had drawn back from the car.

The car represented to my father the epitome of travel. It was an escape from the dreary monotony of the bicycle and a promise for the sight of a future horizon. To my brother and myself, aged four and nine years respectively, it was to become a prison on wheels. On Saturdays and Sundays, we were supposed to behave in a superior fashion, like a privileged class. We hated it and felt stifled, cut off from our friends and so we showed our frustration by violent behavior, which usually ended in an outburst of sobbing. We were filled with resentment and thought of all those tea-parties we were missing during the week- end. Even the luscious cakes we ate in the Eastbourne restaurant overlooking the sea, to which we had been driven, did not make up for the wobbly fruit jellies and trifles which we loved so much at those parties.

During our car journeys, my mother sat very still in the front seat, biding her time for when she could drive. Ultimately she encouraged father to let her have lessons. One day, her ambition was realised. She sat in the driver's seat and drove gingerly, at first, through the narrow lanes of Hildenborough. But after only a few miles, the lanes ended and suddenly gave way to the main London to Dover highway. My mother shot across the road oblivious of any speeding traffic but luckily, after a terrific jolt, we were on our way. It took some time to stop trembling from fright, as I clutched onto the rail in front of me, front seats had rails in those days along the back. The next near accident, which occurred in Tonbridge High Street, brought mother's driving career to an end. Father managed to stop the car and as a policeman arrived, mother slid into the driver's seat while father got out. This unfortunate behaviour by mother made father look like the guilty party.

As my father became more confident, he launched forth on a touring holiday, which took us to the outskirts of Kent into Sussex, via Dorset to Somerset and eventually to Devonshire. Each night en route we stayed for Bed and Breakfast, having had meals on the way. There was one misadventure, when the engine had had enough and stopped abruptly after it had toiled through the narrow lanes of Devon. It is still a mystery to me how we were rescued from this plight When I became a teenager, Charabancs began to appear on the roads, especially on the main road, which ran along the top of our road from Tonbridge to Hastings. I would join friends of mine sitting on a gate along this road and took down the attractive names on the backs of the charabancs. Names, like "Golden Horizon", "The Bluebell Wood", "Purple Heather" and "The Scottish Bell". This activity stimulated an exciting hobby in me and a new kind of social life. Even more significant, was the happy look on the faces of the passengers and the merry songs they sang, which did not make them look like prisoners at all.

As I grew older the car took on a more sinister role and changed from a trap to an enticement ... by strange men. A young man could use the charm of his car to beguile and lure an innocent girl into taking a ride with him and thereby tempt her into a romantic situation. In many homes, in those days, a young man was not invited into a girl's home unless his intentions were honest and that he had good prospects in his career. My father was a wholesale Leather Merchant but would have liked to have been in a profession, for example, the law. So if I were to ask a strange man into the house, my father's first question was. "What is your profession?"

Soon the pleasure of owning a car became commonplace. The car began to creep insidiously into the scenery itself, as hoards of them roared and tore along the existing lanes and by-ways. During week-ends narrow roads and high roads were often blocked, either going to or from the coast towns especially Hastings and Eastbourne. When at length the sea front was reached, there was often no space available on the promenade to even sit down on one of the seats provided, so the only alternative was to remain in one's car. Often the sound of the sea, was only a background murmur, the sight of the sea could only be seen through the windscreen and the scent of the sea was obscured by the smell of petrol fumes. But the car had definitely arrived.