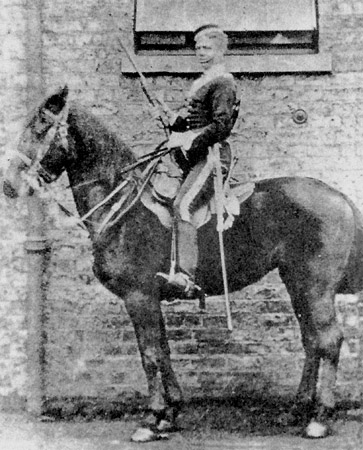 Horace on horseback c.1877


Young men have always added to their official years in order to achieve some burning ambition, be it travelling abroad or riding a horse. The 15 year old boy in my picture accomplished both these aims when in 1877 he put his age on three years, joined a cavalry regiment and went to India. His name was Horace Coates, born 1862 in Cowden, near Tonbridge, Kent. He loved horses and, not owning one himself, would ride on a cow's back for the simple pleasure of being mounted.

He was possesed of great physical strength. The story goes that he could sling a sack of potatoes round his head while he was in the saddle, and hold his seat.

India was the death of him, however. Rivers had to be forded on manoeuvres; Horace had a soaking too many times, he contracted pneumonia and died of exposure far from the place of his birth. The photograph was taken shortly before he left for India. It is another in the collection given to the Ben Botany archives by Miss Coates of Southborough, who is a niece of the late Horace.

She is anxious to find out more about the regiment in which her uncle enlisted and wonders whether readers can help to identify the uniform he is wearing or tel1 her to which cavalry regiment he is likely to have been attached.

The uniform is probably that of the regular cavalry walking-out dress, with breeches and boots, stable jacket and a pill-box hat. He carries a carbine in his right hand and a sword hangs on his left side. As Canterbury and Maidstone were both cavalry depots, it is possible that he was with a brigade at one of these centres.

The cavalry scheme at that period provided for enlisted cavalrymen to serve eight years with the colours, each regiment being sent abroad in turn for foreign duty.

DEATH and GLORY

Searching through books on cavalry units and their uniforms, in a private collection this week, it became apparent, by a process of elimination, that the regiment to which Horace Coates was attached might have been the 17th Lancers.

The 17th Lancers was one of the regiments in the Light Brigade, whose cavalry charge at Balaclava in 1854 is the subject of a famous narrative poem.

This was long before Horace's time, however, and by the time he began his association with the regiment the nickname "the Death and Glory boys", deriving from their badge of skull and crossbones, was firmly fixed. His service coincided with the regiment's spell of duty in India in the year that Queen Victoria was proclaimed Empress of India, a title gained as a result of the Sepoy Mutiny of 20 years before, in 1857. Horace Coates did not survive to go with the regiment in 1879 to South Africa, where they were ordered as reinforcements.