Charles Edwin Fripp was the fourth son of artist, George Arthur Fripp, and his wife, Mary Percival. He was also the grandson of Captain Nicholas Pocock, the marine artist. Charles was born at Camden Town, London on 4th September 1854. Like his father and grandfather, he made his mark in the world through his paintings and illustrations. He studied at the Royal Academy of Munich and Nuremberg and was employed by The Graphic (London) in 1875. After years covering the wars in South Africa, he was made special artist for The Graphic from 1885 - 1900, also covering other conflicts in Sudan, Japan and the Philippines.
Battle of Isandhlwana - Click to enlarge


He is most well known for his painting of the Battle of Isandhlwana, which depicts the last stand of the 24th Regiment of Foot (South Wales Borderers) during the Zulu War on 22nd January 1879. It was completed six years after his initial sketches and exhibited at the Royal Academy in 1885. It is now displayed at the National Army Museum. The image is regularly used by battle enthusiasts to reenact the scene of this courageous event. He was with Lord Chelmsford's column later in 1879, when he witnessed an attack on the British camp on 2nd April and Chelmsford's successful relief of Pearson's force at Etshowe. He was also in the column when the body of the Prince Imperial was discovered, and at the battle at Ulundi, which he sketched as he lay on the leather roof of an ammunition cart. He wrote: "Now and again a bullet sighed overhead as I watched the beautiful advance of the enemy rapidly spreading over the undulations, disappearing and reappearing as the inequalities were traversed."

His travels also took him to the Wild West where he illustrated the plight of the Red Indians and the life of the cowboy. These appeared in The Graphic in 1889 and later in a book by Paul Hogarth titled "Artists on Horseback". He also produced the frontispiece for a Conan Doyle book of fifteen classic tales titled "The Green Flag and Other Stories of War and Sport."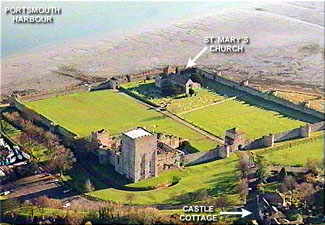 Portchester Castle - Click to enlarge


On 17th May 1901, he married Lois Gertrude Renwick in the grounds of Portchester Castle, Hampshire, at the top of Portsmouth harbour. Lois, daughter of George Robert Renwick, was a resident of Portchester at the time of marriage and the couple were living next to the castle in 1903 at "Castle Cottage" in Castle Street. However Charles did not settle in this Roman village for long. His brother, Thomas William Fripp, had emigrated to British Columbia in 1893 and Charles decided to follow him to Canada, where he captured scenes of the new frontier and the gold rush.

He died in 1906 but left a legacy in his many paintings, illustrations and vivid descriptions of the many places and people he visited during his adventurous life.