George Arthur Fripp was a leading watercolourist of the Bristol School, and was a grandson of marine artist, Nicholas Pocock, (a founder member of The Old Watercolour Society, formed in 1804). His tutors included James Baker Pyne and Samuel Jackson. His early paintings were mainly portraits but he found his niche in landscapes during a seven month tour of Europe, in 1834, with his friend and fellow artist, William James Muller (1812-1845). The trip took them from Belgium to Italy, where they spent almost two months in Venice. They stayed at the Europa Hotel with spectacular views of the Doge's Palace and Grand Canal. Many of their sketches were hastily made from the gondolas they regularly hired.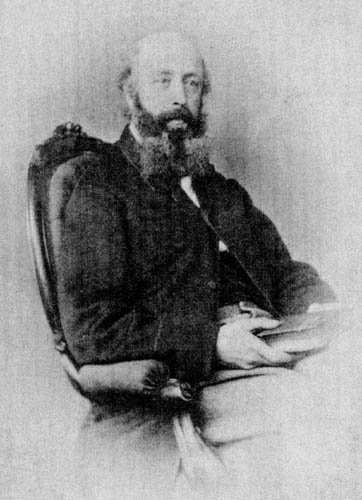 Photo courtesy of the Art Insititute of Chicago
Artist's Papers Collection
(Accession Number: 00.4/3.21)
Website


He exhibited with the Society of Painters in Watercolours in 1837 and was elected an Associate of the Society in 1841. He became full member in 1845. His work was respected by his contemporaries who considered him one of the most promising landscape watercolourists of the 1840s.

During the 1850s and 60s, he toured the mountainous regions of North Wales and Scotland and produced some of his finest work. In 1864 he stayed at Balmoral to produce a series of local views for Queen Victoria, who was a great admirer of his work.

He exhibited his views of Nant Ffrancon at the New Watercolour Society in the early 1860s. An art critic for The Spectator, on 7th May 1864, described his paintings as giving "resolute suppression of immaterial facts and details, suppression, not excision, so that the spectator feels the presence of each variety of rock and heather, but is not, by unrestrained expression of them, distracted from the main idea and design of the picture. In 1874 he wrote of him: "We have no greater landscape painter ... possessed of many of the traditions of the best school of landscape that the world has seen ... Breadth, in the artistic sense, is one great characteristic of Mr. Fripp's painting ..."