Thomas William Fripp was born 23rd March 1864 in London. He was born into a family of artists which started with his grandfather, Captain Nicholas Pocock, who was one of the founders of the Old (later Royal) Watercolour Society in 1804. His father, George Arthur Fripp, and uncle, Alfred Downing Fripp were also well established in watercolour and oil whose subjects were mainly landscapes with some portraits.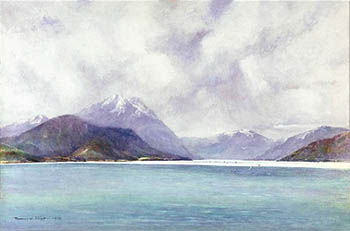 Chatham Sound, British Columbia - Click to enlarge


He studied at St. John's Wood Art School from 1883 and was later accepted at the Royal Academy until 1890 where he developed his own blend of landscape painting influenced by his forefather's styles.

In 1893 he left the shores of his homeland to discover the new frontiers of British Columbia. He met Gertrude Maude Muriel and married her in Vancouver on 9th June 1897. He took up the life of a farmer until he suffered an injury, in 1904, which prevented him from tackling the new landscape he had created from the harsh barren land he settled on.

Unable to continue life as a farmer, he returned to painting scenes from his new land. The vast and varied landscapes of British Columbia gave him an ample choice of subjects and his work was soon to bring him much esteem. He became a principle founder of the British Columbia Society of Artists, in 1908 serving as president for many years.

He died in Victoria in 1931.

A exhibition of his work was held at the Penticton Art Gallery (formerly the Art Gallery of the South Okanagan) in the City of Penticton, British Columbia. The collection was loaned to the gallery by his grandson, Thomas L. Fripp, and was displayed from November 2007 to January 2008.