Marshall Mordew, a previous owner of Oakfield, believes this house and two other nearby buildings, were commissioned by the Moore family in the early 19th century. Records show they were present before 1871 until the late 1920's.

Oakfield is a magnificent residence and would rate as one of South London's finest in its day. The hallway is 45 feet long and has three large reception rooms of about 27x20ft. The main sitting room, in the middle, has floor to ceiling windows of about 12ft high. It now has about 8 bedrooms and 4 bathrooms and an extension was built onto it where the orangery used to be. It has been twice featured in a local history society magazine, the last covered a story of Oakfield's gardener in about 1910. The coach house is now a separate freehold cottage.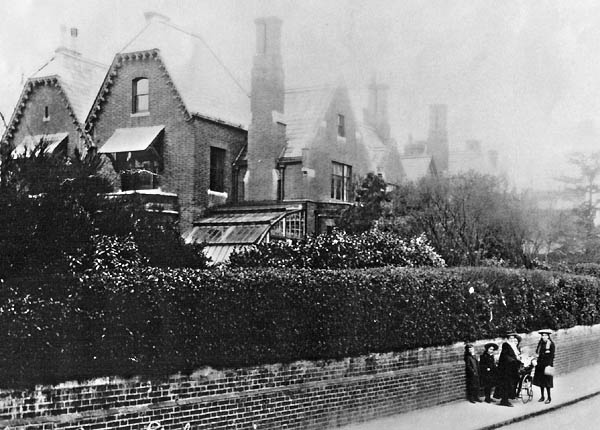 Oakfield House, Southend Crescent, Eltham - c.1915
The above photo was probably taken about 1915, or before, and shows the splendid curved orangery attached to the side of the house. Oakfield, and the building behind, were poorly converted to flats in the late 1920s and remained that way for many years until they eventually fell into great disrepair. Oakfield was later converted back to a house, and the building behind only converted properly to flats a few years ago. Most of the gardens had also been sold when the houses became flats. The road is now mainly lined with 1930s houses, those on the West side (left) built on the reduced gardens of these large houses.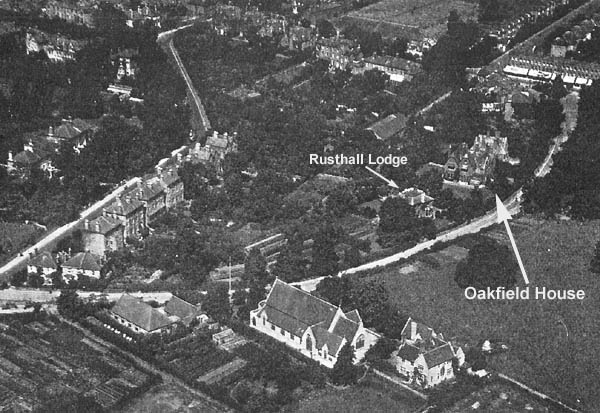 Aerial view looking North West - pre 1925
Cropped Close-up of above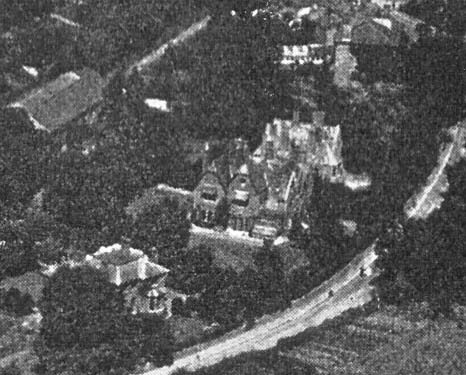 This aerial shot, taken before 1925, shows Oakfield sitting in its gardens on the bend of the road. Another house of large proportion, thought to have been commissioned by the Moores, sits behind Oakfield. Around the bend, just to the South West, is Rusthall Lodge where Arthur William Dodwell Moore & Audrey Katherine Moore lived in the 1920s. This is now a clinic and will be converted to apartments in 2004.

The reasons for the Moore's abandonment of Oakfield are presently unknown.