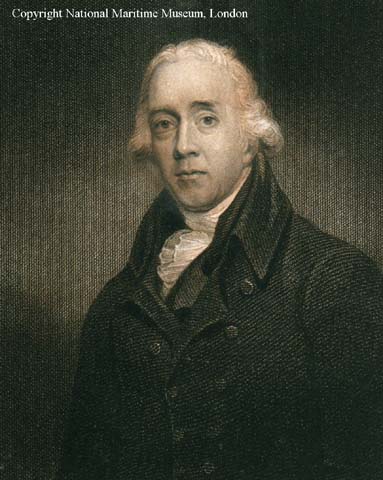 Nicholas Pocock


One hundred and seventy years after his death, the reputation of Nicholas Pocock as one of Britain's most distinguished marine artists remains undiminished.

He was born in Bristol in 1740, the eldest son of another Nicholas Pocock, a mariner and merchant and later Freeman of Bristol.

In 1757, the younger Nicholas was apprenticed to his parents, and served his indentures by going to sea. His father died in 1759 and the 19-year-old apprentice was left to care for his widowed mother and two surviving brothers.

The first authoritatively attributed drawings by Nicholas Pocock date from 1758-62. Apart from one evocative picture of Wapping docks, they are all of Bristol privateers or former privateers and slave ships.

The style and technique of these early drawings reached their peak in the series of seven remarkable logbooks kept by Pocock during his voyages between 1766 and 1775. Five of these logs survive: four being in the National Maritime Museum and one in the Bristol Record Office.

The book records two voyages in the Lloyd between Bristol, Dominica and London in 1771-72. Along with the usual daily entries noting weather, nautical position and ship's progress – all meticulously revealing Pocock to have been a very able master mariner and navigator – almost every entry is illustrated by an India ink-and-wash drawing showing the ship in the conditions of the day, all drawn with amazing technical precision.

The fortunes of the Pocock family were secured through the patronage of Richard Champion, a Quaker merchant who also pioneered the manufacture of Bristol Porcelain.

Pocock wrote copious letters to Champion, with whom he became very friendly, which are filled with gratitude for the independence the job offered and and for the security and comfort enjoyed by his mother.

But in 1778 Richard Champion became insolvent, his transatlantic trade destroyed by the American War of Independence.

These misfortunes appear to have persuaded Pocock to finally leave the sea and devote himself entirely to painting. In 1780 he married Ann Evans, and submitted his first oil painting to the Royal Academy. The work arrived too late but prompted an encouraging and constructive letter from Sir Joshua Reynolds.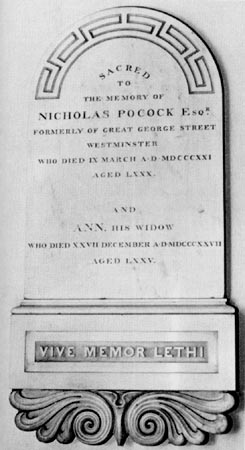 Memorial at Holy Trinity, Cookham


Four of Pocock's works were accepted by the R.A. in 1782, and he continued to exhibit annually well on into the next century. Throughout the 1780s, he made many drawings and paintings of Bristol ships, trade and dockside while living at 41 Prince's Street (then at the southwest corner of Assembly Rooms Lane).

In 1789 he moved to London where his reputation continued to grow and he was appointed Marine Painter to King George. He attended battles and filled notebooks with sketches and impressions which were later used in the large-scale paintings of sea warfare for which he was most admired.

Pocock had ventured in this direction previously, most notably in three paintings of around 1782-83 of the Battle of the Saints.

Nicholas Pocock died in 1821 at Maidenhead, and is buried in the nearby parish church of Cookham.

A number of his works are in the National Maritime Museum, and others, particularly of Bristol and its waterfront, are in Bristol City Museum & Art Gallery's permanent collection, although none are on display in the main museum.

Two of his early privateer drawings are in the Industrial Museum and A View Of Nevis From St Kitts, which was probably commissioned by John Pinney, now hangs in the Georgian House.