Sir Isaac Pocock was born on Christmas day 1751 at Bristol, Gloucestershire. His older brother was Captain Nicholas Pocock the marine artist. His father, Nicholas, was a mariner, merchant and was made a freeman of the city of Bristol in 1742. His mother, Mary Innes, was a wealthy heiress, daughter of William Innes of Leuchars, Fifeshire, who settled in Bristol 1704. The Innes line can be followed back to Berowald Flandrensis, born before 1086 in Belgium, who was granted the Lands of Innes by Malcolm IV of Scotland at Christmas 1160.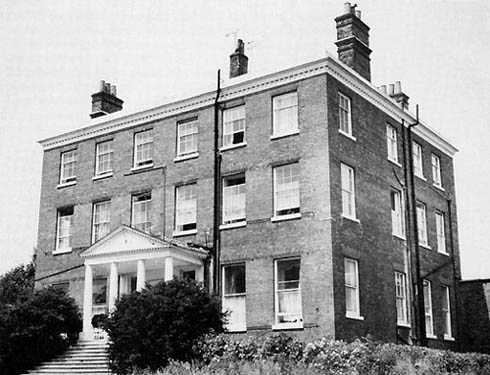 Ray Lodge, Bridge Road, Maidenhead, Berks.

Sir Isaac was destined for a life at sea. He took part in the American War of Independence, where he was Captain of the "Marquis of Rockingham". In 1776 his ship was captured by the "Sturdy Beggar" of Maryland. He and his crew were held captive aboard his own ship but were eventually released. During his period of imprisonment he was treated with great respect by his captors.

After his life at sea, he settled at Biggin, Northamptonshire, where he became Sheriff of the County and was knighted for his duties in 1786. Two years previous to his knighthood he married Ann Widon, of Cookham, at Christchurch, Surrey on 18th February 1784.

He later returned to Berkshire and built a home on a large plot of land next to the River Thames near Maidenhead Bridge. The house was named "Ray Lodge" and was to be home for Sir Isaac and Lady Anne Pocock until their deaths. It was then left to his nephew Isaac (son of Nicholas), who invited his parents, and often his siblings, to live there. It was converted into flats in the 1960's and still exists today.

Sir Isaac suffered a heart attack in October 1810, while punting on the Thames, close to his home. He was buried in the family vault at Holy Trinity church, Cookham, where he is commemorated with a marble plaque memorial depicting his death.



SACRED TO THE MEMORY OF
SIR ISAAC POCOCK KNIGHT
LATE OF THIS PARISH
WHO WAS SUDDENLY CALLED FROM THIS WORLD TO A BETTER STATE
WHILST ON THE THAMES, NEAR HIS OWN HOUSE,
OCTOBER 8TH IN THE YEAR OF OUR LORD 1810
AND IN THE 59TH YEAR OF HIS AGE
BENEVOLENT AND AMIABLE TO ALL
HE WAS UNIVERSALLY BELOVED IN LIFE AND LAMENTED IN DEATH
THIS MONUMENT,
A FRAIL MEMORIAL OF HIS INTESTIMABLE WORTH,
WAS ERECTED BY HIS WIDOW